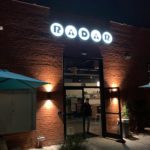 Insurance People of North Carolina Attends North Carolina Craft Brewers Conference & Sponsors #NCBeer Brewery Crawl
November 10, 2021 – Insurance People of North Carolina had the privilege to attend the 8th annual North Carolina Craft Brewers Conference from November 2nd to November 4th in downtown Winston-Salem.
The NC Craft Brewers Conference brings together craft brewing professionals from across the Southeast for a three day event of learning, networking, socializing, and shopping.
On Tuesday, November 2nd, Insurance People partnered with Radar Brewing Company to sponsor one of the locations of the #NCBeer Brewery Crawl. That evening, conference attendees had the opportunity to visit four local breweries located around downtown Winston-Salem. Participating breweries also included Wise Man Brewing, Fiddlin' Fish Brewing, and Incendiary Brewing Company.
The NC Craft Brewers Guild's mission is to promote North Carolina as The State of Southern Beer, advance the interests of NC craft breweries, and to position North Carolina as a leader among the best craft beer states in the nation.
According to VisitNC, North Carolina is home to 300 local breweries, more than any other state in the South. Asheville, North Carolina, has been voted "Beer City USA" for four consecutive years.
Insurance People has been a proud member of the NC Craft Brewers Guild since its inception and is the largest writer of craft breweries in our state.
For pictures from the trip, please follow our social media accounts: Instagram & Facebook
For questions regarding insurance for breweries, please contact Andrew Pate (AndrewP@inspeople.com).